Side clamps
Corner Clamps
Side clamps
The side clamps are made of reinforced polymers and are used to attach the poles to the sides of the tent, putting the canvas under tension. You can mount them using the handy clamp at the bottom that fits both aluminum and wooden poles. Are you setting up your safari-style tent so that there isn't a pole under each clamp? If so, you can use a shorter bolt with the clamp to give it a more taut look.
Corner Clamps
Standard Pole cap
XL Pole cap
Standard Pole cap
This pole cap (made from reinforced polymers as the clamps) is mounted on the lower poles of the stretch tent to keep the canvas up, and fits all poles, both aluminum and wood, and both side and center poles. You can use this cap, for example, to lose as little space as possible inside the stretch tent, and to keep corners and/or sides elevated. For center poles, we recommend using an XL hood.
XL Pole cap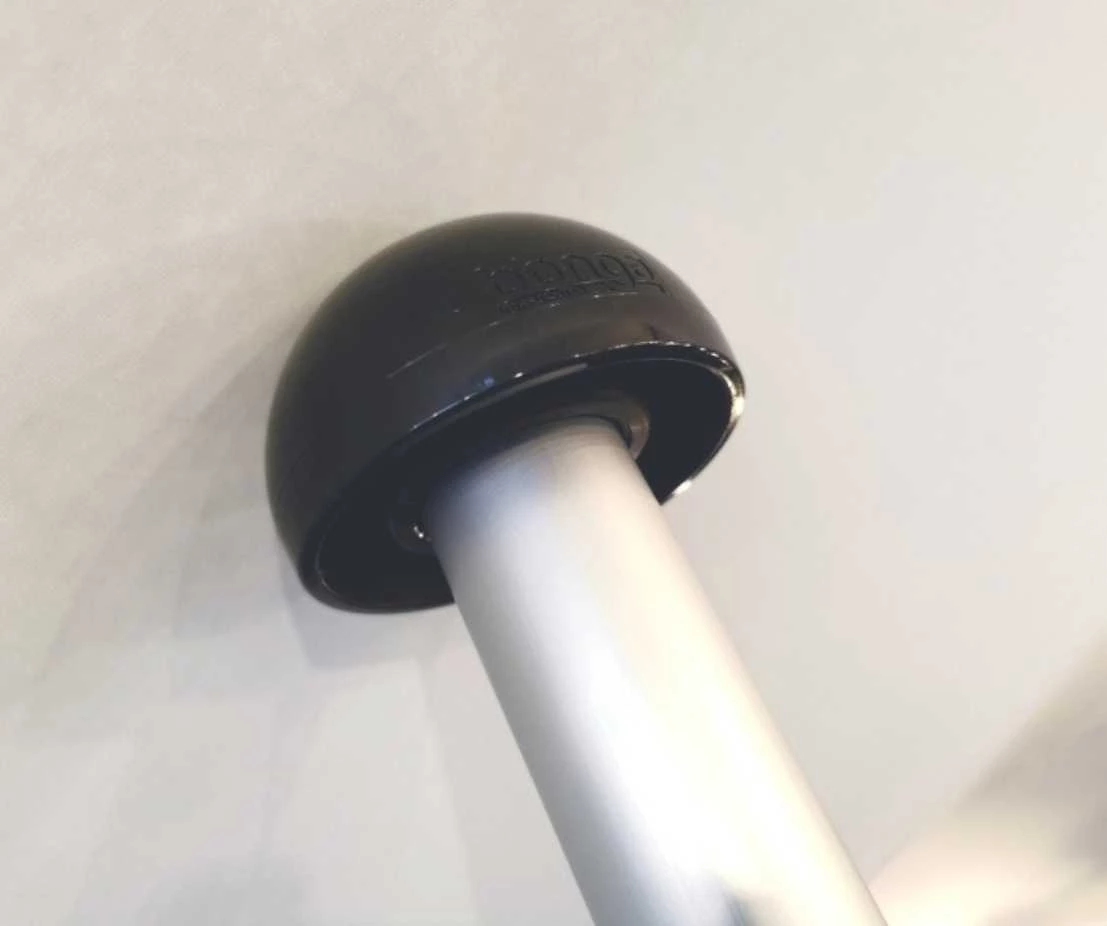 Connecting Strip
Connecting Clamp
Connecting Strip
This connecting strip, available in the same colors as the selected stretch tent, is mounted on the connection between two marquees so that no rain can enter once they are linked. For this reason, it is important that the connecting strip is always at the highest point of the connected tents. The connecting strip is one meter wide and can be purchased separately per linear meter.
Connecting Clamp
Standard Straps
Storm Straps
Pegs
Standard Straps
The straps are made of durable nylon and keep the tent under tension. They pull the tent over the corner and side clamps down, giving the sides of the tent a typical arched shape. They are attached at one end to the side and corner clamps, while firmly attaching the other end to the poles. The straps are included in the set and have a tensile strength of 500 kg.
Storm Straps
Pegs
Aluminium pole foot
Adapters for wooden poles
Aluminium pole foot
These rubber feet slide on the bottom of the aluminum poles. On hard surfaces, they prevent the aluminum poles from slipping causing damage to the floor. On soft surfaces, they ensure that the poles do not sink into the ground. These feet are included with the aluminum pole set.
Adapters for wooden poles
Using the Keder rail, a stretch marquee can be attached to a wall without any problems. Our stretch tents are equipped with a very strong Keder seam, which fits perfectly into the groove of a Keder rail and forms an uninterrupted connection between the curtain and the wall. The keder rail can be purchased separately and is available by the linear meter.